Choosing a Time Clock App: Top 7 Solutions
May 01, 2017
Time clock apps are all about spending your time on work that matters instead of mundane administrative tasks. They help teams and individuals manage shift work and time-based projects without relying on spreadsheets, emails, and memory.
Choosing a new time clock app for your company can be daunting. You want a solution that lets employees clock in and out easily, and that makes your data available for export to a payroll or accounting system, but there are dozens of different options.
ALSO READ: Leave Management Tools and Best Practices
While every businesses with hourly employees or project-based teams should use a time clock app to track hours worked, the structure, size, and schedules of your team will dictate how sophisticated of a platform you need. Companies that employ lots of hourly employees in a single location may look for an app that tracks basic in/out times; others may focus on how time is spent.
To make your decision easier, we've listed several must-have features for time clock apps and seven of the market's top solutions.
Must-Have Features for Time Clock Apps
Mobile Management: Mobile apps let employees clock in from anywhere they do their work, without wasting time on a commute. These features also let you add security features to personal devices and integrate BYOD plans to protect company data. Field service companies find these features particularly useful, as they save time and keep data safe.
Geofencing: Geofencing uses GPS monitoring to alert the time clock system when employees enter and exit a defined area. This technology is great for construction crews moving back and forth from multiple locations, and to reduce time theft with distributed teams.
Leave management: Leave management tools allow employees to request time off in self-service portals, and managers receive notifications of those requests. These features give employees and managers autonomy to request and approve leave when most convenient, rather than requiring all parties to have face-to-face time or a messy paper trail.
Compliance: The best time clock apps will give administrators the power to set hourly requirements and restrictions that keep the company compliant. Paperless time clock apps also automatically consolidate all time information, which can then be exported to spreadsheets for auditing purposes.
Integrations: Like any standalone or composite software system, an important part of choosing a time clock app is checking which other software it integrates with. Check whether your payroll, accounting, HR, and IT software can connect with your new time clock app, or if the time clock software can export data for easy upload.
Dedicated Time Clock Solutions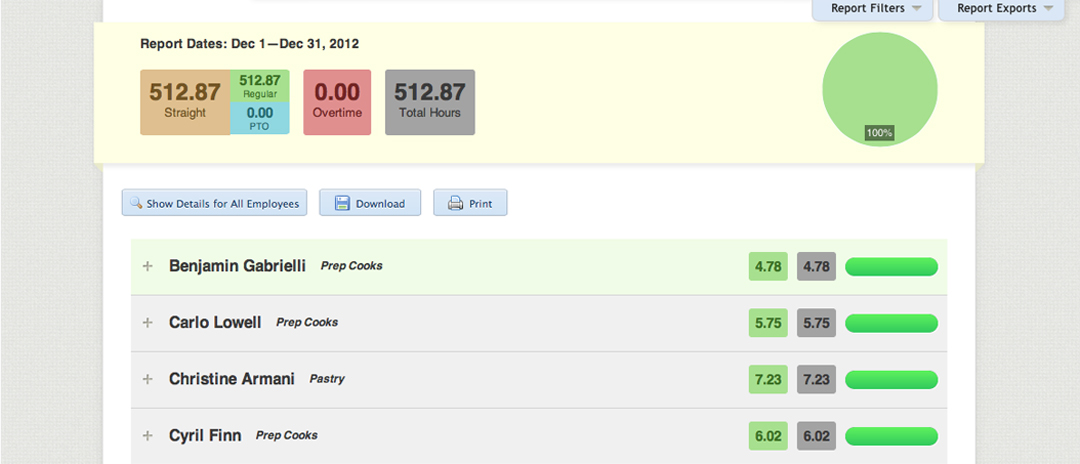 This made-for-mobile time tracking app gives employees access to their clock in from their phones. Features include GPS location tracking for sales and distributed teams, and text message notifications. This app has powerful integrations with Quickbooks and Xero, as well as granular reports for admins.
This web-based time tracking app is available in a browser or on your phone. Extras include invoicing and payments, which makes it a great time clock app for freelancers and contractors. Take pictures of receipts with your mobile phone and upload directly to the app. Harvest also boasts several reports that help your team use historical data to predict future staffing needs.
TimeCamp is a web-based time tracking app that helps teams of all kinds track project hours for billing, analysis, and staffing. The app features analysis-heavy reports that help teams find and use hours that would have been previously lost due to inactivity or low reporting. Good for students to professionals, the easy-to-use interface features automatic time tracking for single projects to agency-scale strategies. They also offer tons of integrations to share data across departments, devices, and your business-integrated apps.
Integrated Payroll and Time Clock Solutions
Targeting the enterprise market, UltiPro offers time and attendance within their larger human capital management solution. The web-based app provides reporting for regulatory compliance in addition to finding labor bottlenecks and identifying shortages before they happen. The flexible time tracking gives companies lots of options for employee clock-ins, from desktop to mobile.
A member of the Oracle family of software, Peoplesoft Time and Labor tracks time and attendance and offers a user-friendly interface for managers and employees. As part of the PeopleSoft Enterprise Human Capital Management solution, time and labor data syncs with the PeopleSoft Payroll solution to ease the compensation process. Action tagging gives administrators access to labor reports for planning and analysis.
This web-based time clock serves as an add-on for Intuit software users. While the app itself is pretty basic, the connections to the Intuit payroll system save companies from the time and headaches associated with inaccurate clock-ins and paper time sheets.
Workday promises a flexible, cloud-based setup that expands with your human capital management needs. The time and attendance portion of the app is fully optimized for mobile devices, giving teams the freedom to manage their requests and time from anywhere. The app is designed as an enterprise solution with payroll, HR, benefits, etc.
* * *
To browse and compare more time clock/attendance tracking solutions, use our Product Selection Tool. Have questions? Call one of our Technology Advisors for a free, unbiased consultation.