AMGtime and The Corporate Advocate Combine Forces
August 24, 2018
AMGtime and The Corporate Advocate (TCA) have partnered to provide their collective customers an abundance of innovative solutions.
Los Angeles, California – Combining AMGtime and TCA is the formula for running a successful business. Both leaders in their respective industries, AMGtime and TCA have bonded in their advocacy for the client. Providing their collective clients with quality is what drove their recent union. The partnership brings forth expertise, agility and convenience. AMGtime and TCA work tirelessly to make sure business needs are met regarding the workforce, which is why they are integrating their technologies. TCA and AMGtime's mutual customers will now have access to advanced and easy-to-use technology solutions at little to no cost. Similar values of smart software and flexibility towards their clients has led to a seamless partnership. TCA CEO Joey Sanchez states, "My team and I are very excited to be integrating both our software and business model with AMGtime. We know that together both companies' present and future clients will benefit from our collaboration and expanded offerings."
AMGtime offers a wide array of labor management solutions ranging from time, attendance, and scheduling software, to biometric devices. Industry-specific solutions also make AMGtime a frontrunner for many fields such as Staffing, Skilled Nursing, Healthcare, Manufacturing, and Construction, amongst others. AMGtime's mobile app makes the software portable and ideal for remote workers. With AMGtime, customers can depend on industry-relevant up-to-date technology and adaptability. Software solutions such as TCA's, are bridged with AMGtime through an open API, providing customers a seamless experience.
TCA is a leading broker of corporate insurance, focusing on workers comp and general liability. Their passion is advocating for clients and helping solve their toughest business challenges. In addition to insurance, TCA offers a plethora of educational and technical services as an added value to their customers. Employee lawsuits, claims, and undisciplined management can jeopardize a company's longevity. The Corporate Advocate protects employers by ensuring the right coverage and tools for a successful company.
There are many elements that go into building and maintaining a successful business. Two important yet often overlooked areas are labor and insurance management. Not investing properly in these facets can be costly and searching for appropriate solutions is time consuming. The AMGtime and TCA partnership combats this as well as optimizes business operations in various areas. Specifically, both companies have extensive experience and innovative offerings for industries such as Staffing, PEO, and Construction. This winning alliance equips their clients with the tools necessary to achieve success.
About AMGtime
AMGtime is a national leader of time, attendance, and scheduling solutions used for workforce management. In addition to customizable and scalable software on both cloud and PC, AMGtime offers a variety of biometric devices and mobile applications. AMGtime is recognized as a preferred partner across multiple industries such as skilled nursing, staffing, and construction, due to their innovative industry specific solutions. With an open API, AMGtime can be bridged with payroll, HR, and other external software solutions. AMGtime's offerings are customizable and adaptable for basic to complex configurations, and simple to implement, providing organizations with the highest level of efficiency and ROI.
About The Corporate Advocate
The Corporate Advocate is a team of business experts who offer employers a truly innovative and unique model that works to protect them and their businesses from frivolous and fraudulent lawsuits and claims. This is accomplished through the utilization of mobile technology, software, insurance, and a business advocacy model that will cut cost from the company's bottom line while increasing their efficiency.
Read full press release here: https://www.prweb.com/releases/2018/06/prweb15544451.htm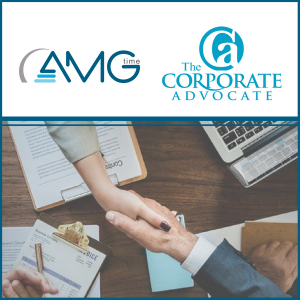 Contact Details
Website: http://amgtime.com/
Phone Number: (800) 960-3735
Fax: (323) 254-7976
Address: 3235 N San Fernando Rd. #1C
Los Angeles, CA 90065, United States