7 Technology Dr Ste 101 North Chelmsford, MA 01863-2441 • Tel: 978.303.3358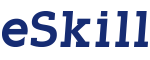 Since 2003,  eSkill's mission is to provide the most complete, customizable, and valuable talent assessment experience in the human resources industry. eSkill makes assessing candidates' job skills, psychological fit, and interview presentation easy and seamless. eSkill will help your organization hire better-qualified people, more quickly, with defensible compliance. Have confidence in your hiring decisions and team-building success with eSkill.
Make the Best Hires with Relevant, Valid & Predictive Tests.
Significantly Reduce Time & Cost to Hire.
Customize and Control the Screening Experience to Fit Your Business.
Increase Compliance and Reduce Risk.
Ensure Candidates and Employees Excel at Their Jobs.
The four business needs that eSkill addresses are:
Hiring competent employees while reducing time-to-hire
Assigning candidates to the best positions for their skills
Increasing EEOC compliance through assessments demonstrably tailored to each job's requirement
Evaluating employees' knowledge about the company business processes, policies, and procedures
Our products Pre-employment testing Build stronger candidate pools and make smarter hiring decisions. With customizable tests and advanced simulations, eSkill helps you deploy valid tests for pre-employment selection. Voice & Video Interview Combine a Voice & Video interview questions with skills, behavioral, and free-response questions into a single assessment, or use the interviews as a stand-alone tool. Behavioral Assessments Get an integrated approach from prescreening to job analysis and identify a candidate's capabilities by combining both skills and behavioral assessments. Hire for cultural fit and avoid the guesswork. Employee Assessments Screen your employees to figure out who among them needs training. Quickly identify your employees' skill gaps in a single test, as well as the strengths and skill gaps of a candidate vs. a job requirement. Learn more here: https://www.eskill.com/ View full listing